This is our latest Automatic Bagging machine, which is nearing completion. Within the next 2 weeks it will be shipped to our customer.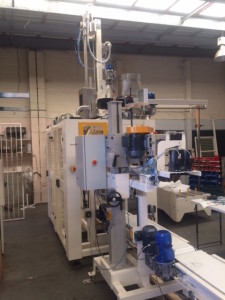 Some of the features of this machine are
 – Twin screw Auger (our new design)
 – Custom infeed (new design)
 – Allen and Bradley PLC
 – Bag Turner (new design)
 – Conveyors
 – Safety guarding
 – Rinstrum controller
 – Touch screen for line settings
 – Button panel (reset/ pause/ emergency stop etc)
We have manufactured this machine in our Factory in Brisbane. All of our team have a hand in this process – From initial design carried out by our Design Director, Jim Nolan, through to our Engineers and Fitters, and our Electricians.
Once you are into production, we keep in touch to confirm that the machine is operating efficiently, and that bag speeds are on-spec. Ongoing servicing is always important for a machine like this. We have been in business for a long time, and you can be confident that we are there with you for the long term.
---
Who is Packweigh?
When Packweigh was initially formed back 25 years ago by Jim Nolan, the focus was on Industrial Sewing Machine repairs. As the company grew, it moved into the manufacture of bagging and weighing equipment. Jim, along with his fellow Director Rod Wilson recognised the need for quality bagging equipment capable of solid speeds, and high utilisation. By manufacturing in Australia, there can be a high focus on precision and quality. In some cases, Packweigh imports equipment from overseas, where there is a clear advantage for their customer to do so.
http://packweigh.com.au/wp-content/uploads/2017/02/Automatic-Bagging-Bachine-Packweigh.jpg
640
480
Packweigh
http://packweigh.com.au/wp-content/uploads/2015/04/packweigh-equipment-packaging-solutions-brisbane1-300x75.png
Packweigh
2017-02-14 15:00:26
2020-10-30 23:16:21
Automatic Bagging Machine