Innocheck
The Innocheck checks weights for complete bags and boxes.
Description
The Innocheck is an inline check scale for bags or boxes.
Fixed height conveyor on load cells
Rinstrum R420 weigh controller
Front and back bag guides
Adjustable under & over tolerance settings
Light tower
Frequency of bag checks is adjustable
Operator input of batch code
Time, date, weight, batch code & total number of bags will be recorded (optional)
Information can be exported to a spread sheet via a USB stick (optional)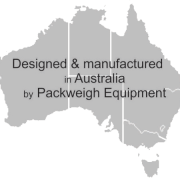 Brochures
For more information download a brochure below.
What we do
Packweigh Equipment designs and manufactures weighing and bagging equipment in Brisbane. When you have an upcoming project, talk to the team at Packweigh. They can give you a competitive Quote, outlining all of your options.