Hand Held Sewing Machines | Portable Machines
Packweigh Equipment specializes in all bag sewing equipment with different brands available. We carry an extensive range of parts for all the common makes and models, along with very experienced technicians on staff. (No plastic cams or gears, in any of these models)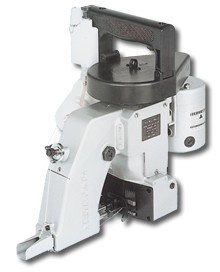 High-speed Newlong NP-7A Portable Bag Closer with steel cam provides a long, minimum maintenance service life. Engineered for continuous operation, the single thread chain stitch bag closer has a top speed of 1,600 rpm. The NP-7A closes bags of agricultural & food products, animal feeds, fertilizer, flour, seed, grain, chemicals and other pelletized and powdered materials. The versatile closer also sews on horizontal surfaces and can be used to join fabrics. NP-7A closes virtually every type of bag, including kraft paper, cotton, hessian, jute, PP/PE woven cloth as well as other bag materials. The portable closer is equipped with a safety plastic handle for insulation and features an oil pump lubrication system and automatic thread cutting. Oil lines direct lubricant to main moving elements.
Packweigh Equipment, design & manufacture as well as import equipment from all over the world. We realize most customers don't have an unlimited budget, so we aim to provide Innovative packaging solutions to suit your budget. With a modern workshop and engineering department, Packweigh can ensure your new Hand Held Sewing Machine will be suited to your specific needs. Packweigh Equipment also carries an extensive range of spare parts and has the expertise and staff to service your bagger machinery for smooth trouble free operation.
For more information on your Packaging machinery & Palletiser's or to find out more about your packing and weighing options, or simply just a Hand held sewing machine, please feel free to contact us today.
Contact us to customise a solution for you