Ilerbag V
The Ilerbag V is a vertical form, fill and seal machine.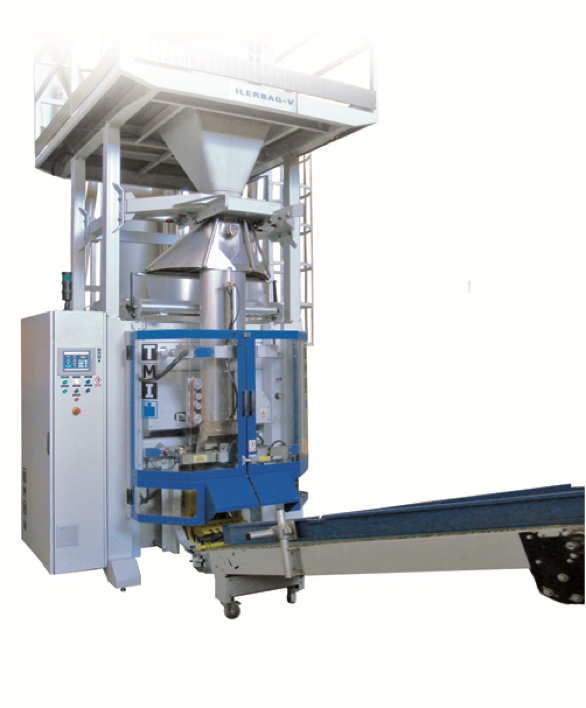 Description
The Ilerbag V is a vertical form fill & seal for large bags where the P.E . film is taken from the roll and formed into the bag shape then filled & sealed. This is ideal where long runs of the same bag are required.
Benefits
Total automation of the bagging process
Reduction on the operating costs, accelerates return of investment
Flexibility and quickness on format' changes
Output optimization at the bagging point
Maximum reliability throughout all the form, fill and seal process
Simplicity of the system
Versatility allowing to handle a wide variety of different formats
Mechanical parts isolated from the product
Applications
Agro-feed: Seeds, cereals, cattle feed, pet-foods, premixes…
Foodstuff: Flours, semolina, ingredients, milk powder, cacao powder, sugar…
Chemical & Petrochemical: Fertilizers, PVC, plastic granules…
Building & mining: Mortars, sepiolite, perlite, salt, glass, frit…
Recycling: Biomass pellets, Shredded tyres…
Features
Outputs up to 1200 bags/hour depending on product' characteristics and formats to handle
Motorized sealing and cutting system, brushless servo motor
Cardan driven unwinding system
Pneumatic coupling of forming tubes
PE or other thermo-sealable materials from a flat roll
Simple and user friendly HMI
Brochures
For more information download a brochure below.
CONTACT PACKWEIGH
PHONE: (07) 3823 1033
EMAIL: sales@packweigh.com.au
ADDRESS: 3/14 Veronica Street, Capalaba, QLD, 4157