Innobulk GL
The Innobulk GL a bulk bag filling station with bag lifting.
Description
The Innobulk GL is a system designed to lower the bag hooks & bag clamp allowing for tall bags to be easily loaded. The operator presses a button & the system then raises allowing for the bag to hang freely so the product fills the  bottom corners evenly. Once the weighing is complete, a fork lift is used to place a pallet under the bag & raise the bag. The system is designed so when the weight is lifted, the hooks will release the bag automatically.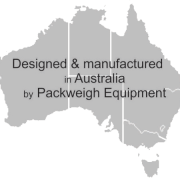 Features
Filling & weighing
Three position radial gate with independent adjustment on both main & dribble positions for high accuracy and speed.
Rinstrum panel mount batch controller
LCD display with LED back lighting
24VDC controls
High quality load cells
Supports optical communication with PC
IP65 enclosure
Pneumatic bag neck clamp
Bag lifting
Linear Bearing on bag lift system
2.2Kw brake motor
Bevel helical gearbox
VFD motor control
Retractable bag hooks with release system
Brochures
For more information download a brochure below.
What we do
Packweigh Equipment designs and manufactures weighing and bagging equipment in Brisbane. When you have an upcoming project, talk to the team at Packweigh. They can give you a competitive Quote, outlining all of your options.